Picture this: you can eat delicious food loaded with butter, cream, and cheese, without obsessing over counting calories and still lose weight! No, this is not a joke! That's the Ketogenic diet, my dear friends!
The Ketogenic or Keto diet as it is commonly known is sweeping the nation owing to the tremendous health benefits it offers. Let's unpack this wonderful low-carb, high-fat diet bit by bit.
What is Keto Diet?
The keto diet is essentially a very low-carb, moderate protein, high-fat diet. It involves drastically reducing your carbohydrate intake and replacing it with fat, which puts your body into a metabolic state called nutritional ketosis.
In usual cases, when you eat a carbohydrate-rich diet, your body naturally breaks down those carbohydrates into glucose as the preferred source of fuel.
However, in the absence of carbs, the liver converts the fatty acids in the bloodstream to something called ketone bodies. These ketones are responsible to provide energy not only to the body but also to the brain.
So basically, in ketosis, your body switches from using carbs (in the form of glucose) as its primary source of energy and instead uses ketones (fats) as the energy source.
A well-formulated keto diet should have the following macronutrient breakdown:
Fat: 70–75% of calories
Protein: 20–25% of calories
Carbs: 5–10% of calories
For most people, a range of 20-50 grams of net carbohydrate intake per day is ideal. The more restrictive you are on your carbohydrates (less than 25g net carbs per day), the faster you will enter ketosis.
"Net carbs" means that you can subtract fiber and sugar alcohols (like xylitol) out of your daily carb count as they don't affect your blood sugar or get stored as glycogen, the storage form of glucose.
Just a word of caution, if you have any medical condition, do consult your healthcare provider regarding the suitability of the diet for you.
Keto Diet for Weight Loss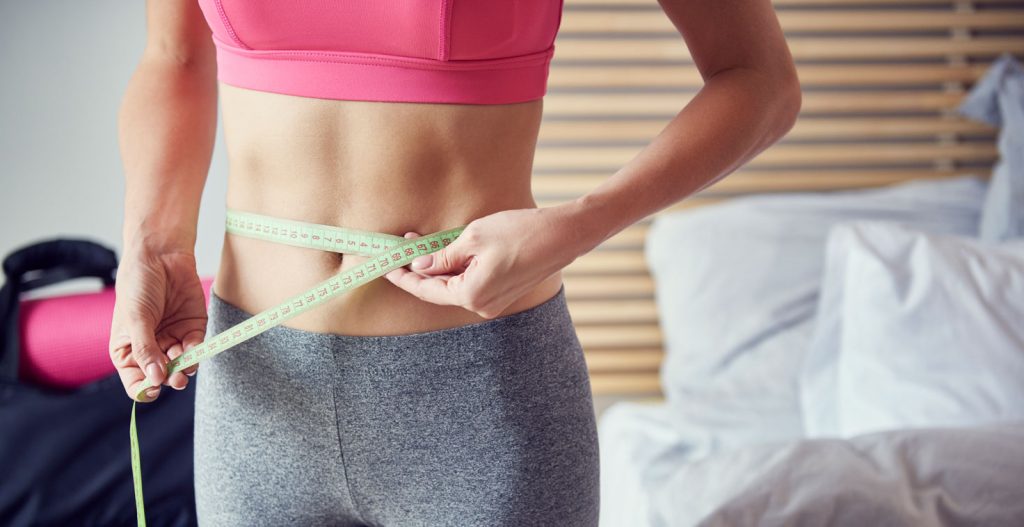 Isn't it counter-intuitive — eat fat to lose fat? But, it's true! Weight loss is one of the prime selling points for keto and also one of the main reasons for its popularity.
By consuming low carbs, your body keeps insulin levels low and glucagon levels high. This pushes your body in a fat-burning mode, as opposed to a fat storage mode(when you have a diet rich in carbs)!
This leads to weight loss and not just normal weight loss – fat loss! Which is what we all care about.
Keto increases satiety- Ketosis suppresses the hunger hormone, Ghrelin, and keeps you away from those hunger pangs by keeping you full for longer periods. This is backed by research too!
The majority of the calorie-restricted diets tend to fail as these low-calorie diets don't give your body enough energy to function and can cause food cravings.
As per a study, people on the keto diet lost a lot of weight compared to those on a calorie-restricted low-fat diet.
Keto burns fat efficiently – On a balanced diet, the carbohydrates that you consume, break down into glucose, and fuels your body. As long as glucose is present, the body does not burn the existing fat stores. You can start burning existing fat faster by restricting carbs in your diet.
When you're in a state of ketosis, your body burns fat more efficiently than normal. This subsequently helps you to reduce your blood sugar and eventually, lose weight.
So, if you're looking to drop a notch on your belt, definitely consider giving the keto diet a shot as it works wonders! I can confidently say this based on my personal experience. My 4-month long keto journey helped me in losing around 12 kgs (26 Pounds)!
Other Health Benefits of Keto
The Keto diet offers a plethora of benefits that extend way beyond just weight loss, let's get to know them.
#1 Increases Energy Levels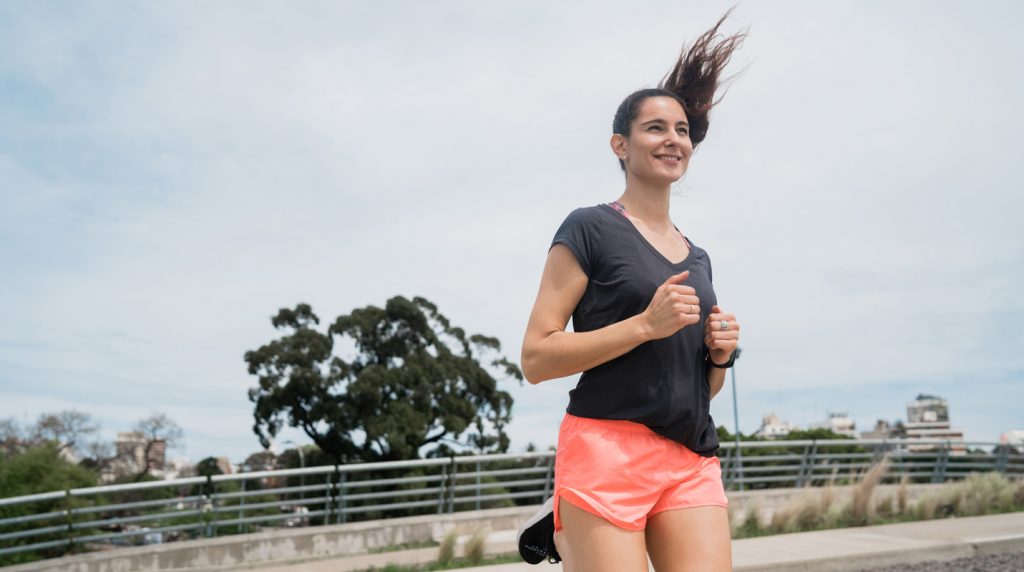 Long-term ketosis helps the brain create more mitochondria, the energy-producing factories of cells. Moreover, owing to the fewer number of carbs that you consume, the blood sugar spikes are minimal which in turn, prevents the dips in energy throughout the day.
So, while being on ketosis you can enjoy a constant, steady stream of energy as your body can tap on the existing fat stores anytime it requires energy. Let's say goodbye to those dreadful afternoon energy slumps!
Here's an important point to note, initially when you start the keto diet, you might not feel that energetic and may experience something called Keto flu. We'll discuss what is keto flu and how to minimize its symptoms in one of the following sections.
#2 Helps with Childhood Epilepsy
This is where the keto diet got its roots. The Keto diet can be prescribed to children who have refractory epileptic seizures. It has been found that once they get into ketosis, they have a decreased frequency of these seizures. It works, it's proven and it's evidence-based science!
#3 Boosts Heart Health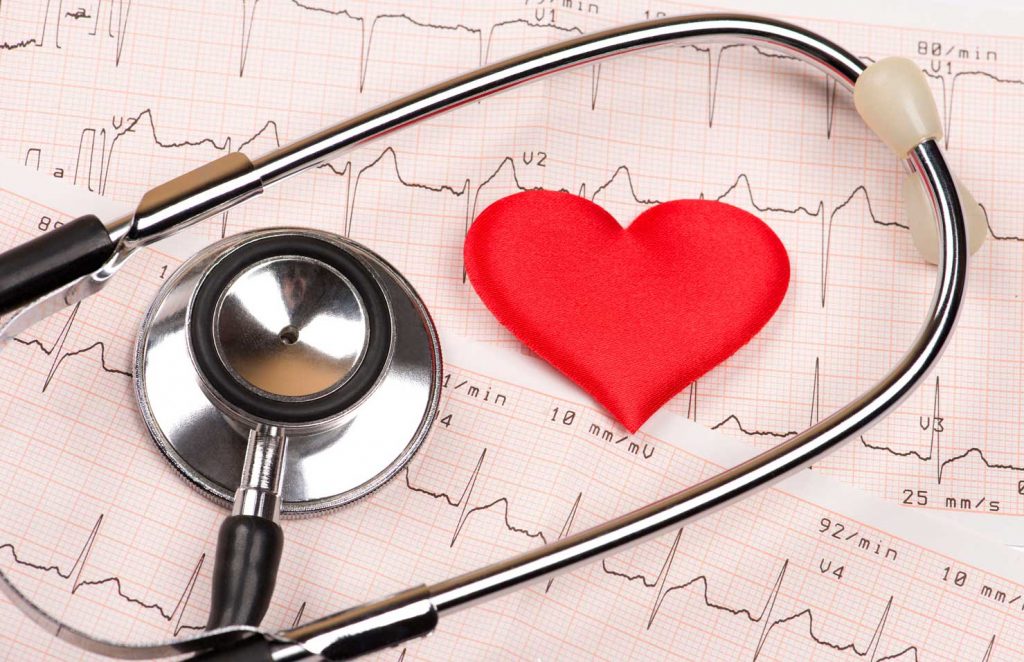 Wait! What? Consuming a diet rich in meat, butter, and cheese can do good for your heart? Yes, you read it right! Although we've been hearing for years about the negative effects of too much fat on cardiovascular health, there is some recent evidence that ketosis can have positive effects on blood lipid and cholesterol levels.
As per studies, the keto diet can help reduce risk factors for heart diseases including lowering the LDL a.k.a. the "bad" cholesterol levels, blood pressure, and triglycerides.
Time and again research has shown that inflammation plays a great role in heart diseases.
Ketones have anti-inflammatory properties. Specifically, beta-hydroxybutyrate — one of the main sources of fuel you use on ketosis, is known to cause a dramatic decrease in the inflammatory response. Thereby, keeping your heart healthy.
#4 Helps in treating Diabetes
People with diabetes have insulin sensitivity issues and high sugar content in the blood. Research has shown over and over again that the keto diet works wonders for type 2 diabetes.
#5 Good for Brain Health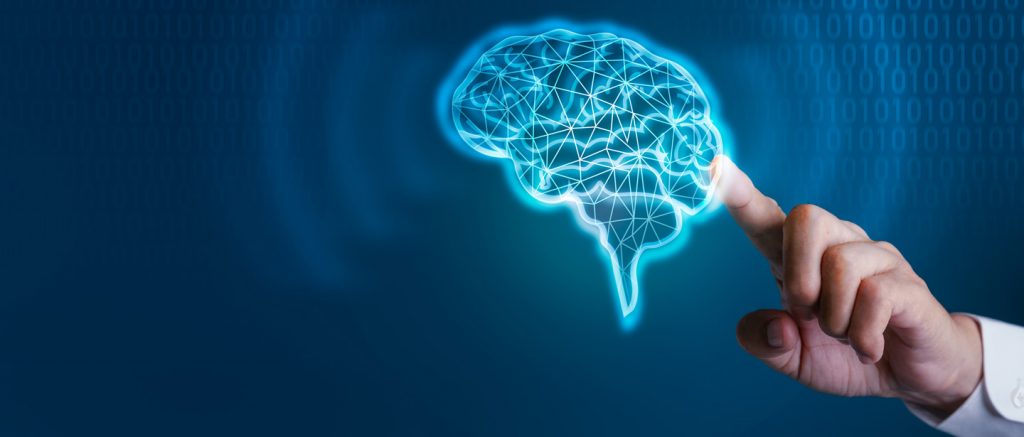 As per research, ketones cause enhanced memory levels and improved brain function.
The Ketone bodies have also been linked with possible neuroprotective and anti-inflammatory benefits. Therefore, the keto diet may support those with conditions such as Parkinson's and Alzheimer's diseases. This is backed by science too!
#6 May help Treat Cancer
As per a study, the ketogenic diet may be a safe and suitable complementary treatment to use alongside chemotherapy and radiation therapy in people with certain cancers. This is because ketosis causes the cancer cells to starve and eventually die, as they are unable to use ketones for fuel and rely on glucose alone for their growth.
The research in this area is limited and more studies need to be carried out to fully understand the potential benefits of the ketogenic diet in cancer prevention and treatment.
Apart from these, studies have proven that the ketogenic diet helps reduce Acne along with Polycystic Ovary Syndrome (PCOS) related markers.
Foods to Eat on a Keto Diet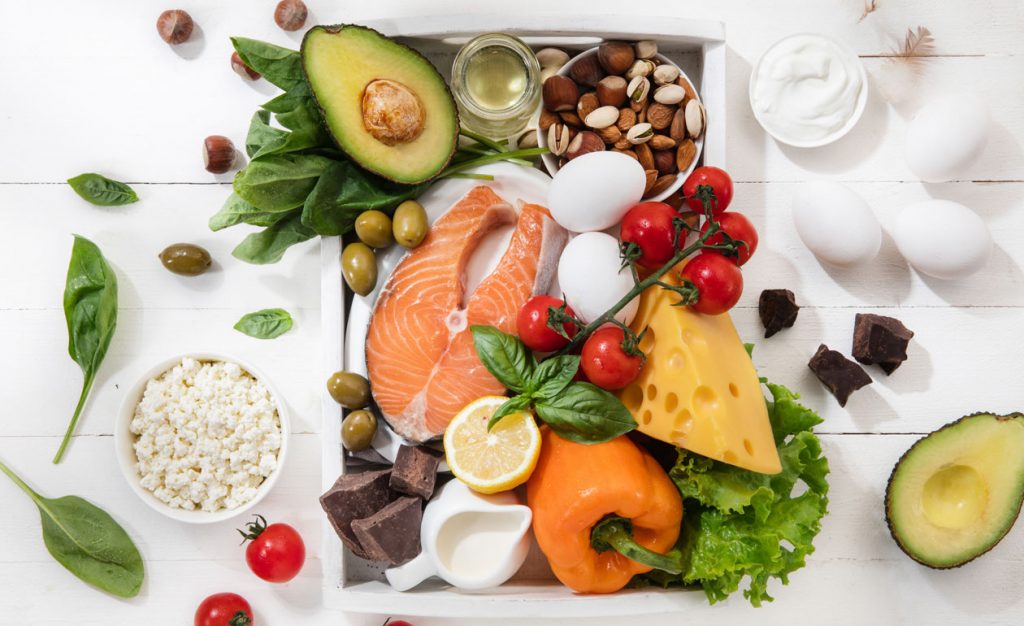 There is absolutely no-deprivation in living a keto lifestyle, but, yes you need to do a makeover of your pantry and fill it up with all the low-carb ingredients as you require no more than 50 grams of net carbs in a day. Let's get to know these.
Vegetables
Instead of starchy root veggies, stick to those that grow above ground, and are rich in fiber.. Here's a non-exhaustive list:
Leafy greens – Spinach, kale, lettuce
Cruciferous vegetables- cabbage, cauliflower, Brussel sprouts, broccoli, arugula
Fermented vegetables – Sauerkraut and Kimchi
Gourd-family veggies- Bitter gourd, Ridge gourd, bottle gourd, zucchini, etc.
There are few other low-carb vegetables like Artichokes, mushrooms, asparagus, bell peppers, eggplants, ladyfinger, etc. that you can relish on the keto diet. Tomatoes and garlic are also allowed in moderation.
Fruits
Most fruits are high in carbs but there are few you can enjoy in moderation. Stick to small servings and try to limit your intake to one serving a day.
Berries like Blackberries, Strawberries, Blueberries, and Raspberries
Avocado – you can relish these in abundance!
Herbs and Spices
Good news! All the spices and herbs are a go-ahead on the keto diet. They're perfect for adding tons of flavor to your food.
Protein
You need to eat protein to replace the protein turnover in your body as well as to prevent muscle loss. However, too much protein can increase insulin and alter ketone formation. In Keto, 20-25% of your diet should constitute proteins.
Animal Meats – Chicken (opt for fattier cuts like thigh and wings), pork, turkey, lamb, fish (fatty fish like tuna, salmon, etc)
Eggs – Yay! Good news, no more "egg-white" only omelets! You can eat all the yolks you want in keto. Plus, they are rich in Vitamin D too! To know more about such foods read 7 Best Vitamin D Rich Foods.
Peanut Butter- It is low carb, high in fat, and moderate protein, making it a great option to consider on a Keto diet.
Keto-friendly Dairy
Avoid low-fat dairy products or those with sugar content.Always choose full-fat, yes that's the fun of keto diet! 🙂
Sour cream and heavy cream (use it for your tea/coffee or for adding that richness to your curries and soups)
Greek yogurt (full flat, plain and unsweetened)
Cheese (cheddar, swiss, gouda, mozzarella, feta..drooling yet?)
Vegetarians or vegans can savour cottage cheese (paneer) and tofu, and combine them with keto-friendly vegetables to make a scrumptious meal.
Nuts and Seeds
Some nuts contain more carbs than others so it's important to choose wisely.
Nuts – Walnuts, pine nuts, coconut, hazelnuts, almonds, pecans, macadamia nuts, brazil nuts, peanuts, etc.
Seeds – Chia seeds, flax seeds, sunflower seeds, poppy seeds, pumpkin seeds, sesame seeds, etc.
Healthy Oils
Keto concentrates mostly on fats but you need to make sure you are feasting on the right kind of fats!
MCT (medium-chain triglycerides) oil – A popular addition to the keto diet owing to its ability to digest quickly and promote ketosis.
Coconut oil, clarified butter (ghee), olive oil, avocado oil, flaxseed oil, sesame seed oil, mayonnaise, etc.
Other Ingredients
Almond flour, coconut flour – can be incorporated in your diet to make delectable low-carb bread and pancakes.
Few artificial sweeteners like stevia, monk sugar, Erythritol, Xylitol, etc. are also a fair game on the keto diet.
Foods to Avoid on a Keto Diet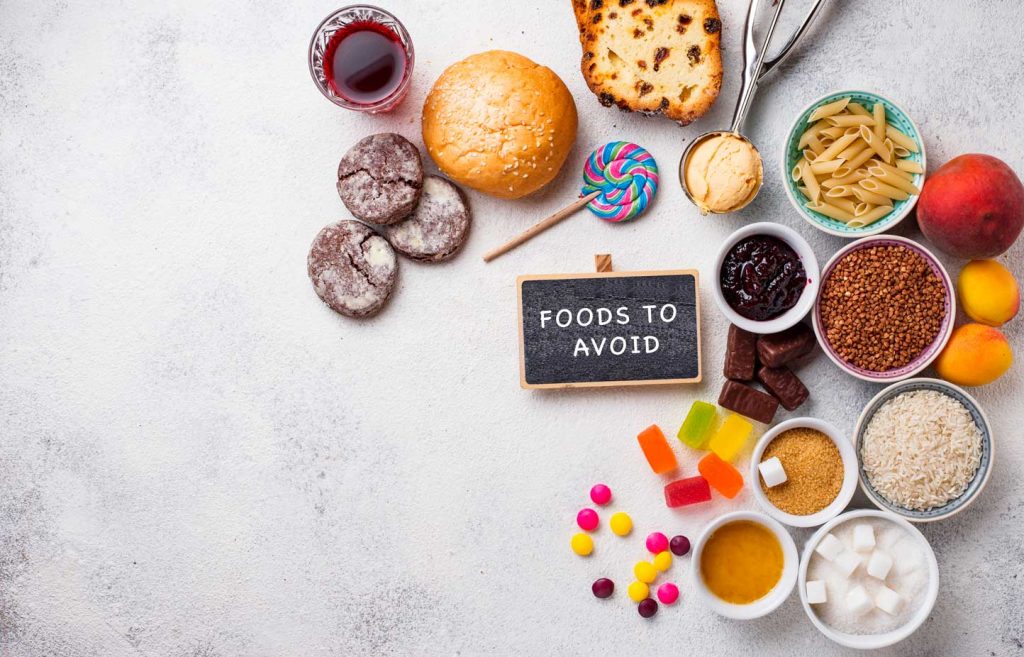 Sugary foods – Juices, soda, cookies, basically all foods containing any kind of added sugar. Even condiments like sauces, salad dressings have lots of sugar. Yes, honey, coconut sugar, and jaggery too!
Grains – Wheat-based products like rice, pasta, oats, cereals, bread are a big no-no. Even gluten-free grains like quinoa, cornmeal, etc. are off the table.
Low-fat dairy products – Opt for high-fat dairy products. No regular milk – go for unsweetened almond, coconut milk instead, or add cream to your tea/coffee.
Beans or legumes – Lentils and beans like kidney, pinto, black-eyed beans, chickpeas, peas, etc. are all high in carbs.
Alcohol – Alcohols like Beer and wine contain loads of sugar. It is best to completely avoid alcohol on a keto diet but if you need to take the edge off, at least go for unsweetened mixers in spirits like whiskey or vodka.
Fruits – While most fruits are packed with fiber and antioxidants, they can kick you out of ketosis. Avoid almost all fruits except small amounts of berries.
Even though dried fruits like prunes, apricots, dates all contain natural sugar, it's still sugar after all, so avoid all of them!
Starchy vegetables – Tick off the starchy, high-carb vegetables like corn, potatoes, carrots, peas, etc. from your grocery list.
Processed and Packaged foods – Cookies, chips, breakfast cereals are usually hotbeds of hidden sugar, trans fats, and all the unhealthy stuff.
Avoiding all these things might be difficult at first but once you get used to it, you will find that you feel much better and lighter, and after a point of time, you will not miss these foods at all!
How to know if you're in Ketosis
It typically takes 2-4 days to reach full ketosis if you're eating less than 50 grams of net carbs per day. However, some people may take a little longer owing to factors like physical activity level, age, metabolism, and carb, fat, and protein intake.
A more accurate test, however, is to use ketone detection strips. You can usually expect them to change from a neutral beige to a shade of red in a positive ketosis test. As per experts, you're in the state of ketosis when your ketone levels measure 0.5-3.0 millimoles per liter.
Side Effects of Keto and Tips to Minimize them
Although the ketogenic diet is safe for most healthy people, there may be some initial side effects while your body adapts. Many people experience a Keto flu with symptoms like fatigue, headache, constipation, lethargy, and nausea. Don't worry, it is perfectly normal to have these and is just your body's way of making a transition from using carbs as an energy source to fats. Once you successfully enter ketosis, these symptoms would be gone. Few other side-effects of keto include:
Increased Urination
Dry Mouth
Bad Breath
Reduced Hunger & Increased Energy
You can minimize these symptoms by:
Making sure that you're drinking plenty of water and replenishing your electrolytes (salt, potassium, magnesium). Mixing pink salt with water and drinking it after every 1-2 hours significantly helps lower keto flu symptoms and this is from my personal experience!
Taking mineral supplements and multivitamins as ketosis can alter their balance in your body.
Common Mistakes to Avoid on Keto
You're not drinking enough water.
Eating any kind of fat – Going nuts on fats may seem like a great excuse on the keto diet but be careful of the quality of fats that you are consuming.
Be mindful of electrolytes and fiber – Don't get too busy enjoying the cheese, do include high-fiber, low-carb veggies as well in your diet, as they can help deal with constipation issues.
Do not overdo on fats – You should be eating 70-75% of fats on a ketogenic diet. But if you have limited your carbs and hit your protein levels, do not force fats if you're not hungry. This is a major pitfall seen among people who are trying to lose weight
Dietary fat should be a limit, not a goal, don't just eat them to fit your macros. Even on keto, which is a high-fat diet, fat is not free!
Who Shouldn't Do the Keto Diet?
As it's said no one diet fits all, if you have any medical issues, it's always a good idea to consult your health care provider before starting anything new.
People with gallbladder or pancreatic issues – As fats are difficult to digest, they may be a strain for those with gallbladder or pancreatic disease.
Pregnant and breastfeeding women
Kidney issues – People who are prone to kidney stones may want to avoid the keto diet due to the shifts in sodium, potassium, and fluid balance.
Gastrointestinal Surgery patients – People with limited digestive capacities should avoid the keto diet.
Summary
The Ketogenic or Keto diet is a low-carb, moderate-protein, and high-fat diet which changes your body's energy source to fats instead of carbohydrates, and has been scientifically known to provide tremendous health benefits including fat loss, brimming energy levels, preventing chronic diseases, PCOS, and so much more. Though you have to restrict many things on the keto diet, it can be challenging to follow but over time it would become the new normal and the results would be so worth it!
The keto diet is more of a lifestyle change rather than just a diet and in order, to reap all its benefits, you need to be consistent and patient. Now, if you've made your mindset and are all game for the keto challenge, then get ready to ditch the carbs, embrace healthy delicious fats, and live life the keto way!