It starts quietly. A gentle whisper in your ear. You're doing some work, so you push the thought away. But soon it comes back, louder and more urgent this time. You start thinking about the gooey molten chocolate lava cake with chocolate oozing out from the center, or maybe a slice of your favorite super cheesy pizza with that perfect cheese pull, and soon it's all you can think about until you cave in and get it somehow. Sounds familiar? You're not alone! Maybe it was a bag of chips, cookies, or your favorite ice cream, but nearly everyone has felt food cravings at some point. When such cravings strike, we find ourselves eyeing the pantry or the fridge frequently to see if anything new has magically arrived that would feed the craving of the moment ☺

Cravings can derail your attempts to eat healthily, so it's important to tame those junk food cravings with delicious alternatives. Don't worry I have got you covered with few tried-tested healthy foods that would not sabotage your fitness goals. But, before that here is a tip that can help you identify if you're craving for something or you're actually hungry, yes, there is a big difference!
Are You Hungry or Just Craving?
Here's a question that you can ask yourself before you decide to snack – "if you had an apple right now, would that satisfy your hunger?" and most likely you would say no, it would not! Then, my friends, it's probably a craving because if you were hungry, anything would really fill up your stomach.

Actual hunger is how your body tells your brain that it needs a resupply of calories, it isn't about specific flavors, just about food! Let's take an example, you've had a hearty big meal but still get tempted by the dessert menu options and order one, that is for sure a food craving. We have all been there, isn't it?

Now, here is something that I follow, I make it a point to be hydrated, as most of the time when you're thirsty you begin to think that you're hungry! But that isn't true, it's just thirst in the disguise of hunger! So, try drinking lots of water or maybe a cup or two of hot water and then waiting for few minutes, you might find that your cravings simply fade away!
Healthy Foods to Snack On
Craving Something Sweet?
If your sweet tooth is more in control of you than you are of it, try reaching for these healthier alternatives:
#1 Greek Yogurt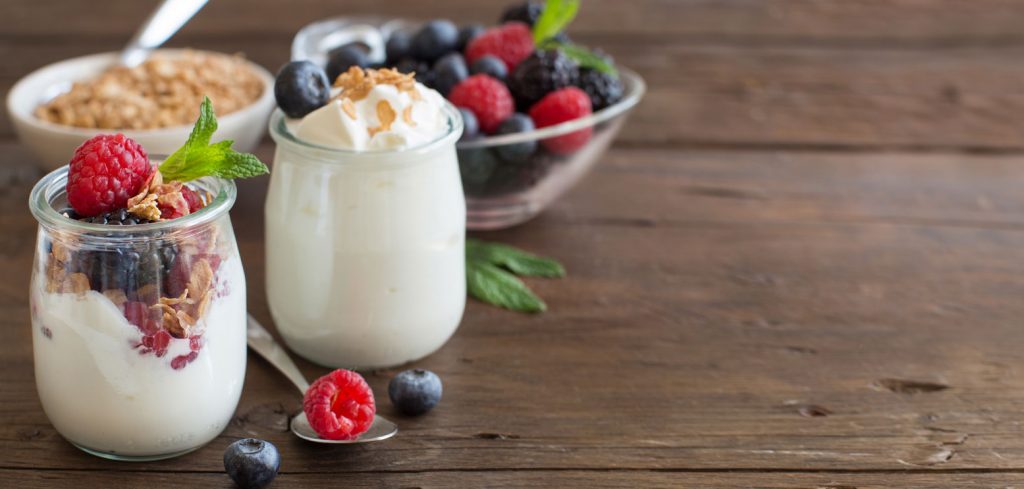 Greek yogurt isn't just a fad. This creamy, rich yogurt has less sugar, more protein, and is much healthier compared to regular yogurt. This is backed by research too! Greek yogurt, a powerhouse of calcium, protein, and probiotics, not only keeps your bones healthy and strong but also reduces your appetite and promotes a feeling of fullness owing to the high protein content.

Just a piece of advice, yogurt can easily be made less healthy due to the sugar content. So read the labels and go for a plain, non-fat variant, and add your favorite fruit or nuts to enhance the flavor and add an antioxidant boost.

Greek yogurt and berries make a great combination, so toss a few of them to your yogurt and snack on without any guilt.
#2 Dates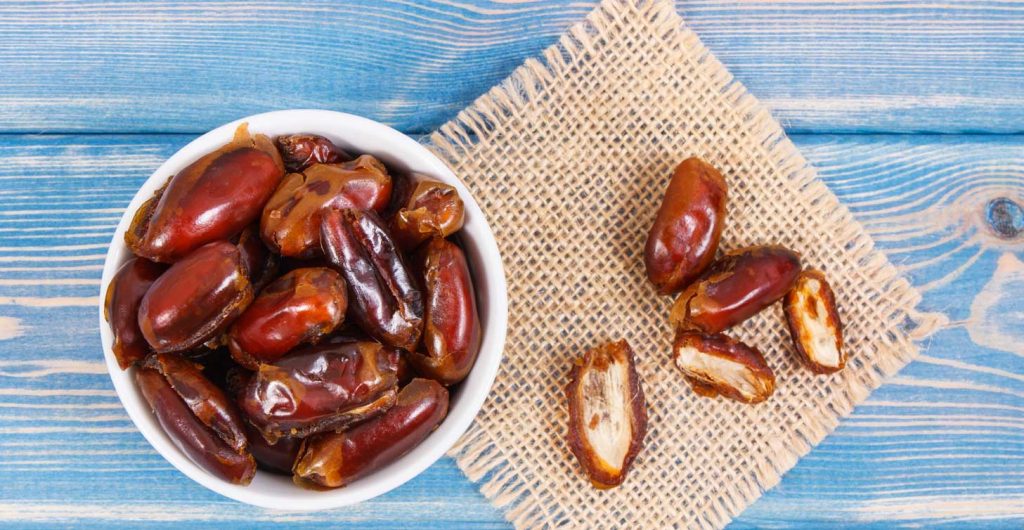 Dates are an energy-rich snack with an excellent nutritional profile. As per research, dates contain several vitamins and minerals in addition to fiber, disease-fighting antioxidants, iron, and various beneficial plant compounds. So, if you're craving something sweet, a few dates can help satisfy your urge and keep you full while providing your body with beneficial nutrients.

As dates are mostly found in their dried form, they are higher in calories than fresh fruit so it is important to eat them in moderation. Around 4-5 dates would help keep your hunger at bay without adding too many calories.
#3 Dark Chocolate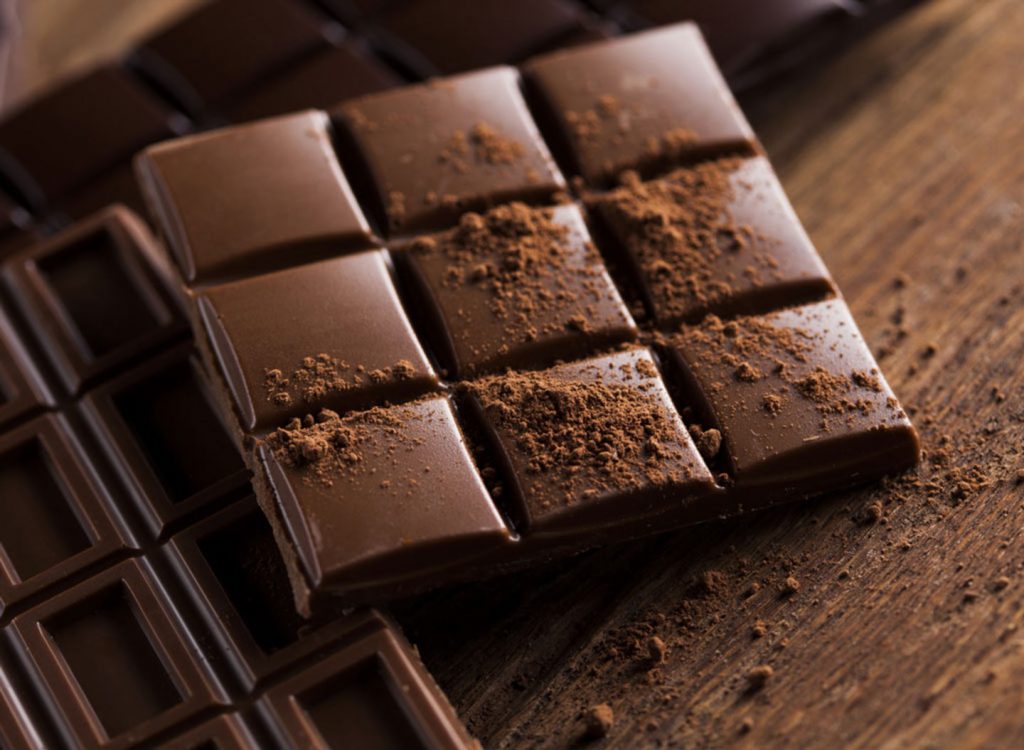 Let's be honest, the first thing our sweet tooth drives us to is chocolate! Did you know? Simply by switching to dark chocolate, you can fulfill your carving while still being healthy. Dark chocolate containing 70% cocoa, is rich in antioxidants, and has anti-inflammatory properties that keep your heart healthy. This is backed by research too!

Amazing isn't it? But the catch is, even though dark chocolate offers various health benefits, it contains sugar and too much of it can cause reverse effects to your diet. So, try to limit yourself to a square or two of dark chocolate for satisfying those chocolaty cravings.
#4 Fruits with Peanut Butter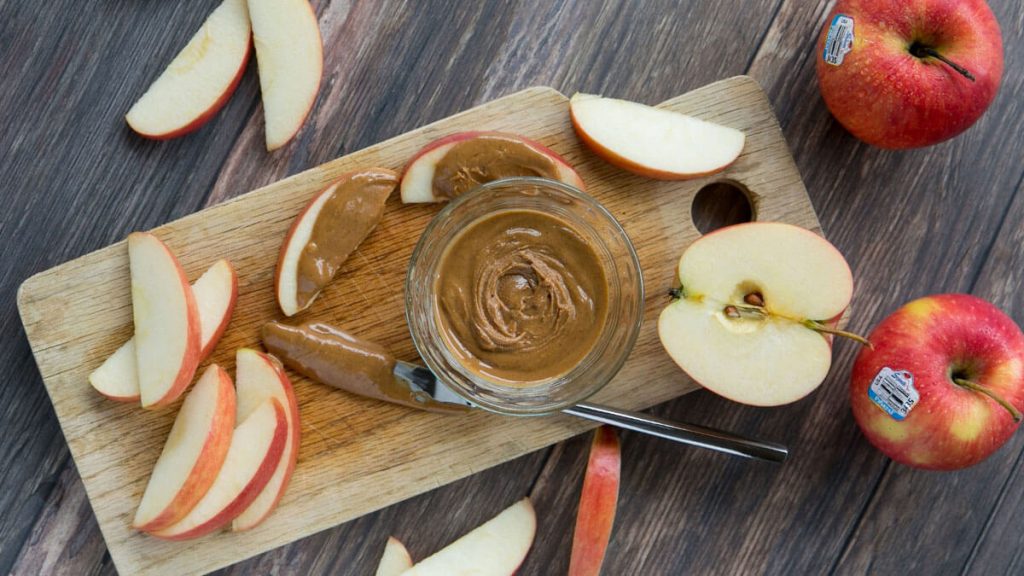 We all know that fruits are synonymous with good health and science has also proven that they are very low in calories, aid digestion, and help prevent many chronic ailments owing to the enormous amount of antioxidants.

The fact being, an apple a day may keep the doctor away, but an apple alone won't keep you full until the next meal. That's where protein-packed peanut butter comes into play. Apple or pear dipped in a small amount of peanut butter is surely a sweet crunchy treat and one of my personal favorites. You can also substitute peanut butter with almond butter if you like.

This healthy snack provides you the goodness of fruits along with healthy fats, proteins, and other beneficial plant compounds found in nuts. Nut butter is so creamy and delicious that you can easily indulge in overeating so try using it just as a dip for making your fruits taste lip-smacking! Also, make sure to opt for an unsweetened variant to get the most benefits.
#5 Banana Ice cream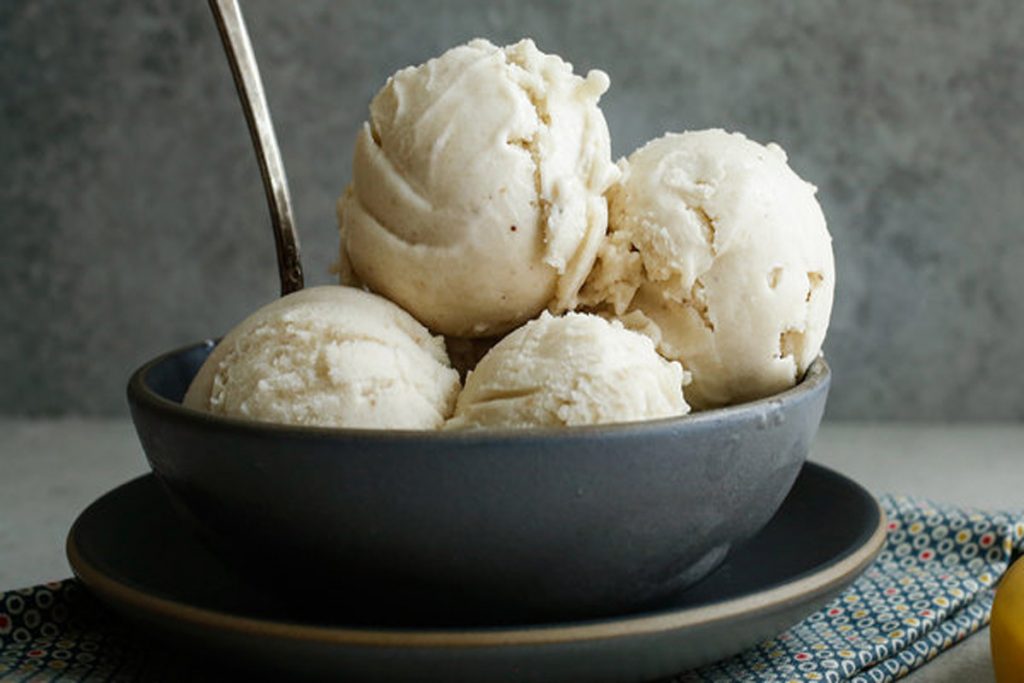 Craving for ice cream? Homemade banana ice-cream is a perfect alternative. It is not only creamy and loaded with flavor, but also much lower in calories and higher in fiber than regular ice cream.

Just blend 1-2 ripe bananas in a food processor and freeze them for at least an hour. You can also add some peanut or almond butter along with other fruits and nuts for an extra boost of flavor.

Blending the banana puree and storing it in an ice cube tray beforehand would make it an easy-to-grab snack whenever a sugar craving strikes.
Craving Something Crunchy?
#1 Trail Mix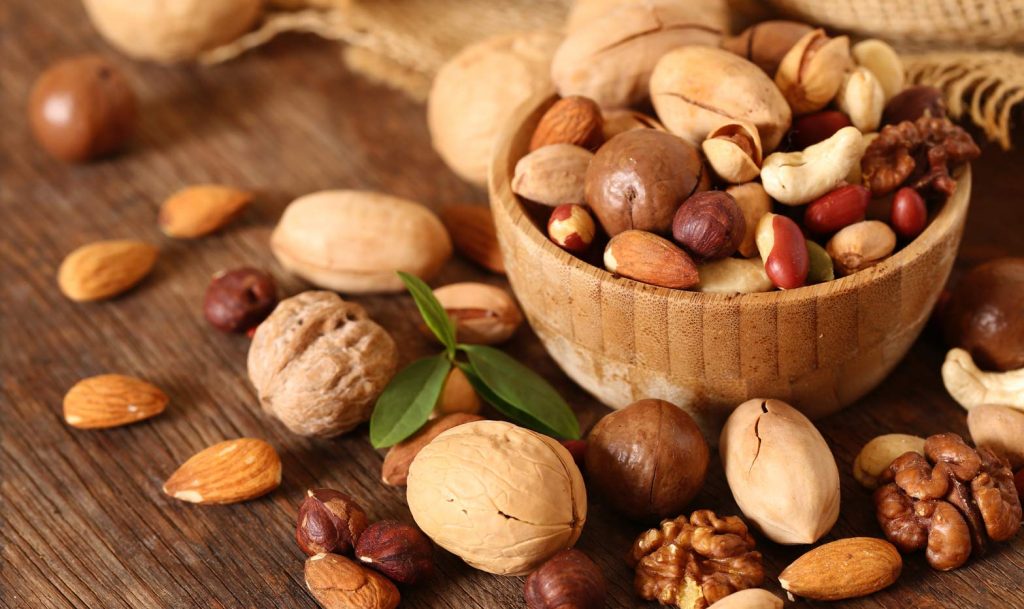 A delicious blend of crunchy nuts, seeds, and dried fruits offer a perfect balance of sweet and salty flavors. Nuts contain beneficial nutrients and as per research, they are linked to improved blood sugar levels in people with type 2 diabetes.

Nuts and seeds are packed with fiber and protein that keeps you full and satiated between meals. A large variety of trail mixes are available in the market however, the pre-packaged ones often contain added sugars, saturated fats, and artificial ingredients. Instead, it's advisable to make your own trail mix by simply mixing your favorite nuts be it almonds, pistachios, cashews, walnuts, pecans, or any others, along with a variety of seeds like pumpkin, sesame, flax, melon, etc. You can also add small pieces of dark chocolate, peanut butter chips, or maybe coconut pieces for an extra flavor and crunchiness.

Just remember, nuts are high in calories so watch your portion size and stick to a handful.
#2 Crunchy Vegetables with Hummus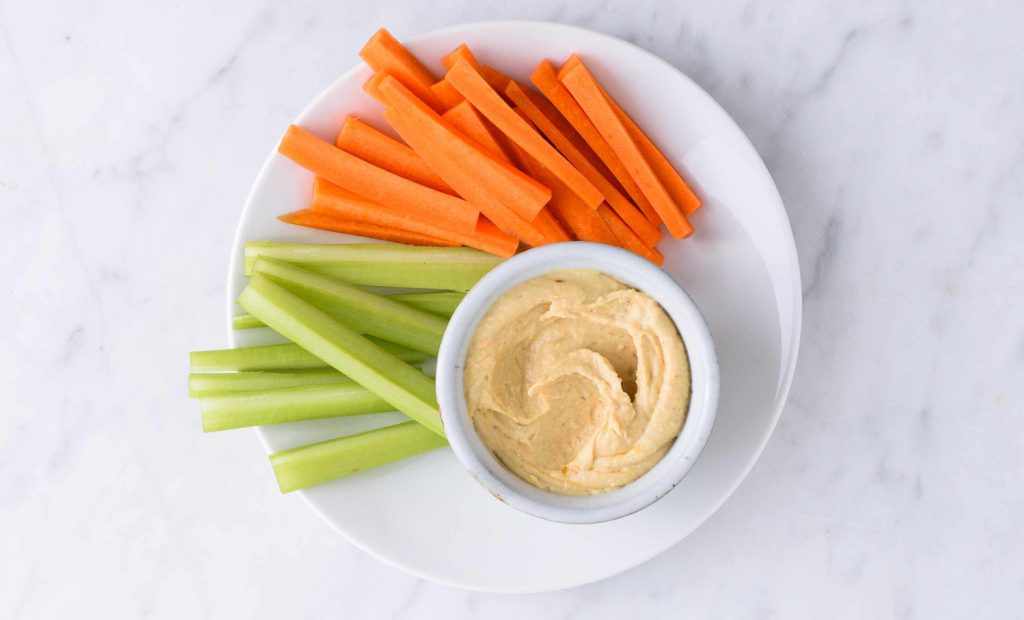 Vegetables like carrots and cucumbers are low in calories and full of nutrients, making them ideal options for weight loss. They are also rich in antioxidants and prevent the accumulation of harmful free radicles in the body, in turn, reducing the risk of chronic diseases. You can top these crunchy vegetables with salt and lemon. But if this is something that doesn't tickle your fancy, why not add something that would not only add to the taste but nutrition too!

Hummus is a hearty and flavourful dip made with chickpeas, garlic, tahini, and olive oil. All these are staples of a healthy Mediterranean diet and are linked to better heart health. Hummus is high in protein owing to the presence of chickpeas in it. It is this protein that keeps you full for long. To know more about such high protein foods, read 11 Best High Protein Indian Vegetarian Foods.

Crispy pita chips usually accompany hummus, but when you pair it with cucumber or carrots, it can be both healthy and delicious. Sure, it might sound much less appetizing but trust me you will be surprised by the minimal difference in taste compared to those saturated, fat-laden pita chips.
#3 Baked Veggie Chips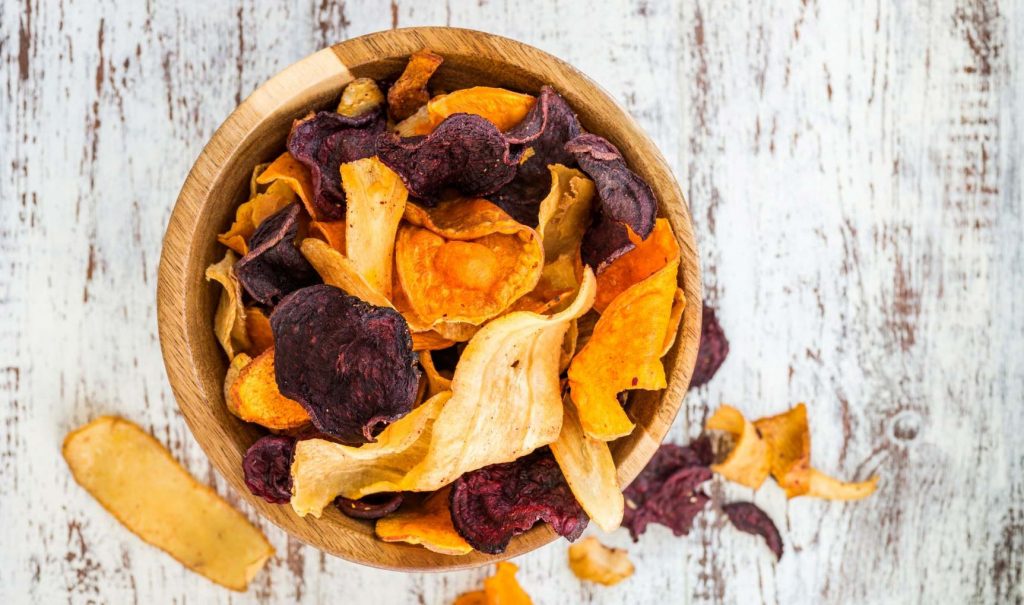 If you're the chips and dip type, this healthy alternative is for you. Making chips without all of the added sodium and fat that's found in packaged chips, is so simple!

Kale chips are well known but you can also make your own version of spinach, beet, zucchini, eggplant, or sweet potato chips.

Just wash your desired vegetables and cut them into thin slices, toss them with a tablespoon or two of olive oil, and sprinkle with salt, pepper, and any herbs you may like. Arrange them on a baking sheet and bake at 375 degrees Fahrenheit (or 190 degrees Celsius) for 15 to 20 minutes or until crispy. You can make a batch of these chips beforehand and store them to quickly stave off hunger pangs.
Craving Something Salty?
#1 Popcorn
Yes, you read it right! Your favorite movie-time snack is low in calories and a great healthy snack that wouldn't blow your calorie budget especially if you're prone to snacking on chips. However, the preparation method, serving size, and topping choice are key factors that decide if your popcorn is healthy or not.

Homemade, air-popped salted popcorn is much lower in calories than the pre-packaged microwave varieties, which are full of unhealthy ingredients and calories. So make your version of healthy air-popped popcorn at home, you can add herbs and a dash of butter to it as well, a little won't do any harm.

A whopping 3-cup serving of homemade popcorn clocks in at just about 100 calories, making it an excellent healthy alternative to potato chips.
#2 Cottage Cheese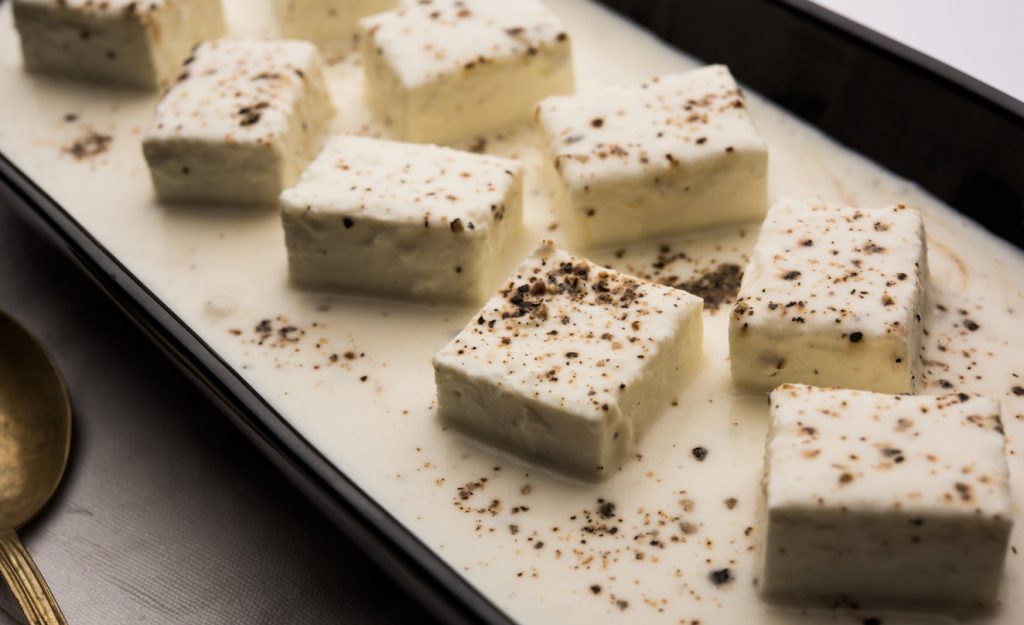 Cottage cheese is a healthy snack that is balanced with protein, carbohydrates, and fats. It is also an excellent source of calcium that plays a vital role in your tooth and bone health, and almost every cell in the body needs calcium to thrive. To know about other such food sources, read Top 12 Calcium-Rich Foods.

So with this healthy snack that is rich in protein, you can stay fuller longer and reap all its health benefits.

Cottage cheese tastes great as it is, you can sprinkle some salt and pepper on it and maybe combine it with some chopped cucumbers, tomatoes, and freshly squeezed lemon. You could also add some almonds and nuts to plain cottage cheese to add a nutty crunch.
#3 Hard-Boiled Eggs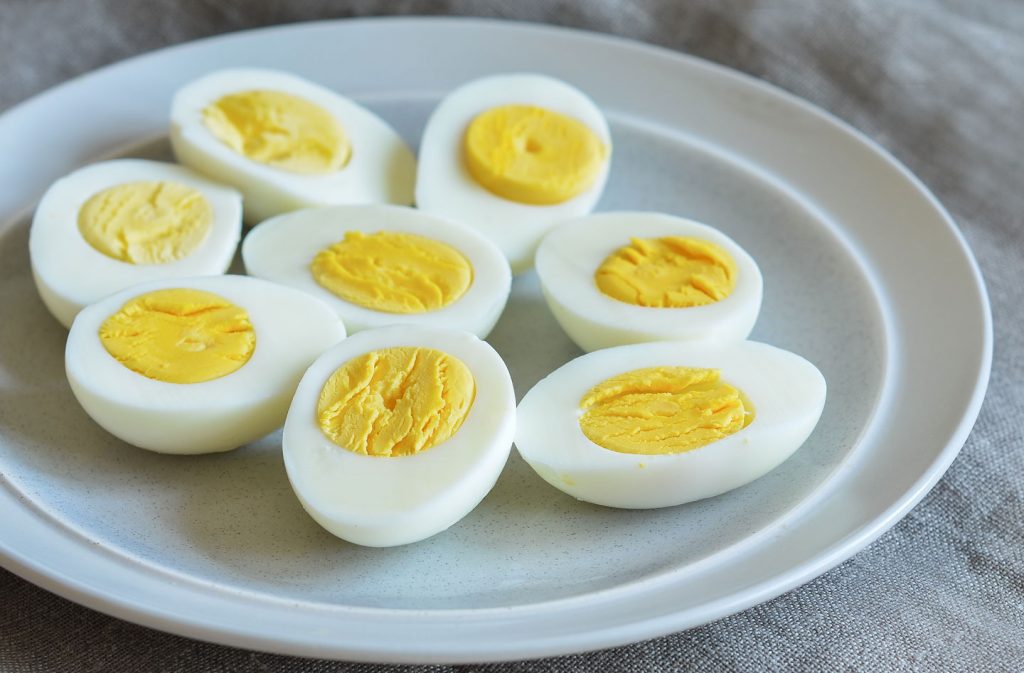 The beauty of eggs is that they can turn into a full meal or a simple snack. Hard-boiling eggs is one of the healthiest and easiest ways for getting your protein all in one bite. They are easy-to-cook and great for times when you're on the go. Just one large egg provides six grams of protein and keeps you satiated for long. Eggs are also loaded with vitamins, minerals, and omega 3 fats which are key to good health. Isn't this egg-citing?
#4 Olives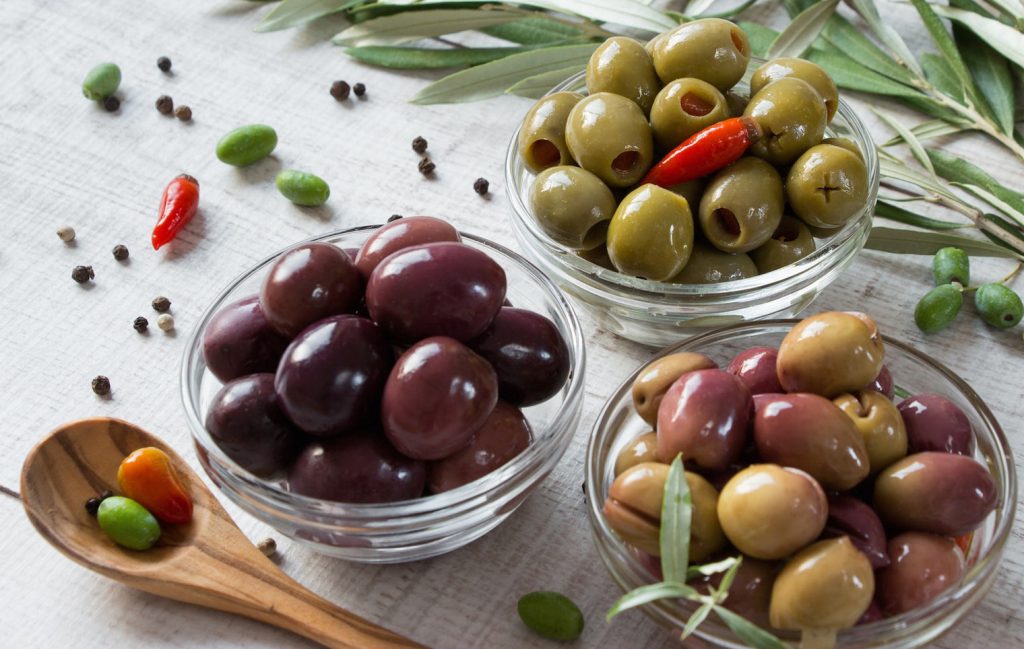 For all those times when you're craving a little salt but can't decide what'll do the trick, olives are the perfect go-to snack.

Olives are a staple in the Mediterranean diet, they're low in calories, and contain heart-healthy mono-saturated fatty acid called oleic acid that helps satisfy cravings.

As per research, Oleic acid is linked to several health benefits, including decreased inflammation and a reduced risk of heart disease. It may even help fight cancer. So, when you nosh on just a handful of olives, you treat yourself to the healthy nutrients that are vital for good health.
#5 Legumes Salad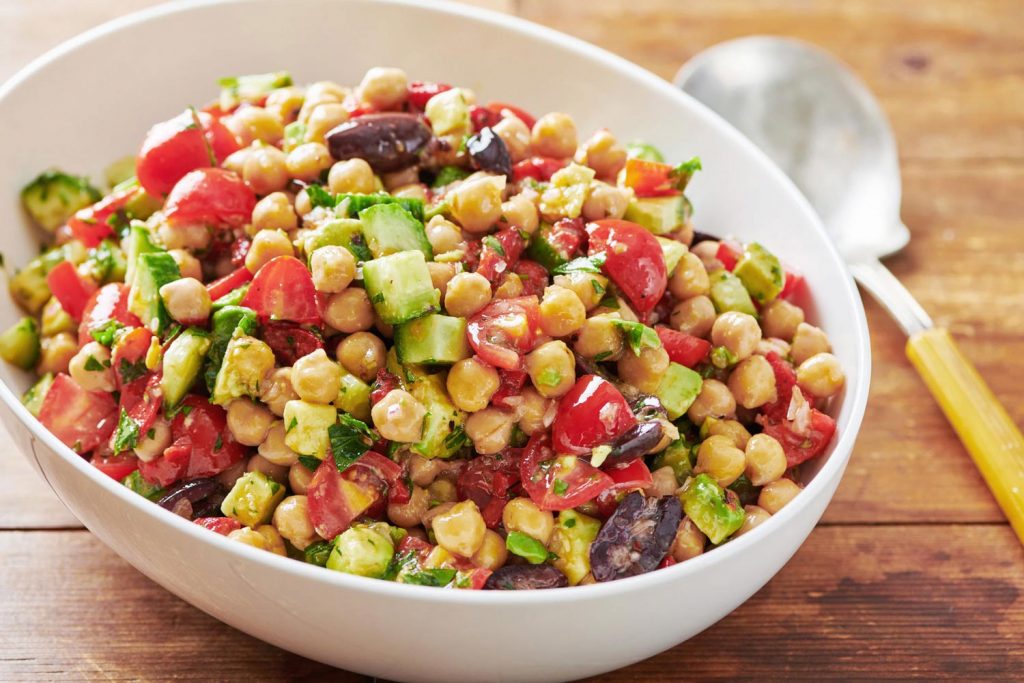 This requires little pre-preparation unlike the other options mentioned here but once you have the ingredients ready, it's just a matter of mixing them up.

Lentils, beans, and chickpeas are excellent sources of protein and fiber which will keep you satiated along with providing other vital nutrients like folate, iron, vitamin B1, and minerals like potassium, magnesium, copper, and much more.

You can boil chickpeas, kidney beans, white, navy, or any other beans that you like and then mix them with chopped cucumber, onion, and tomatoes. Drizzle a little olive oil and freshly squeezed lemon. Time to enjoy!

Beans are also readily available in a canned form, they are much more convenient for sure but many of them contain additives like salt, sugar, and preservatives in large amounts. However, that's not the case with all brands, so in case you want to go for the canned variety, do read the ingredient list and pick one that has no or little salt added along with other harmful additives.
When You Don't Know Exactly What You're Craving For
#1 Drink Something Hot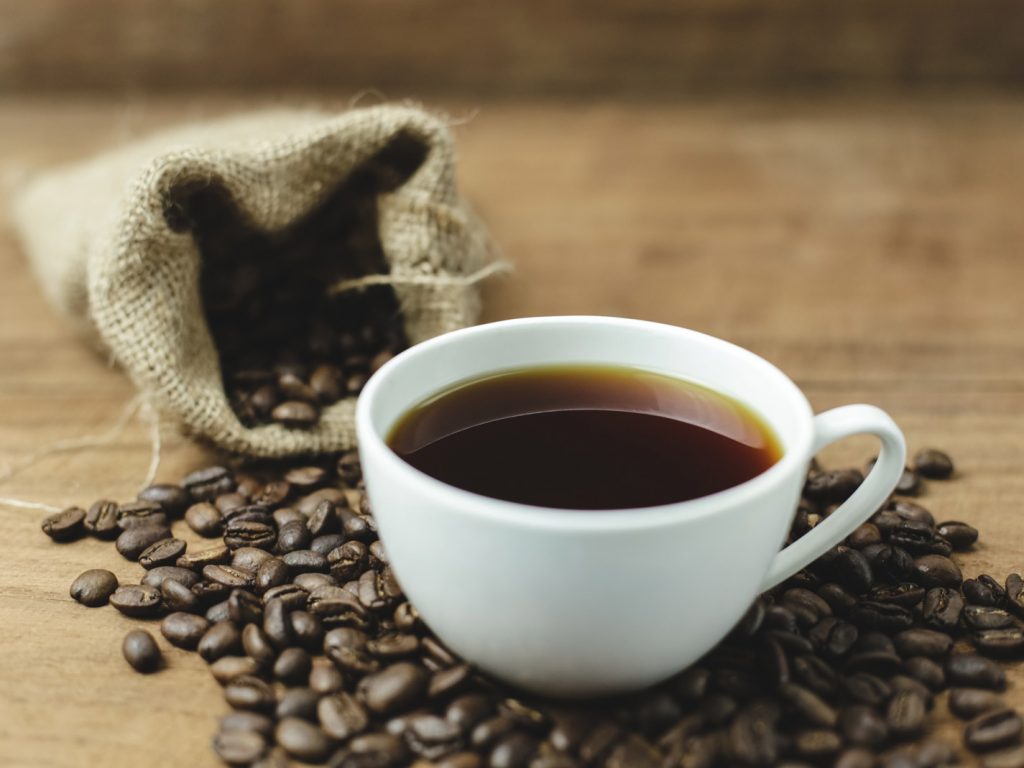 Is green tea a fad or a real health booster? Just like you, I also used to wonder the same until I tried for myself. Green tea is power-packed with antioxidants and the caffeine in it is known to help suppress appetite. It also has an active ingredient called catechins that help boost your metabolism and in turn, promote weight loss.

One cup of green tea will stop you from binge eating unnecessarily, and this I can tell from my personal experience. A handful of your favourite nuts with green tea is a perfect combination.

A cup of black coffee has the same effect and can help deal with those hunger pangs. Just ensure not to load it with additives like sugar and creamers that add on calories. Black coffee can help boost your metabolism, improve your memory, and also help in weight loss. To know more, read 10 Magical Health Benefits of Black Coffee.
#2 Eat Sugar-free Chewing Gum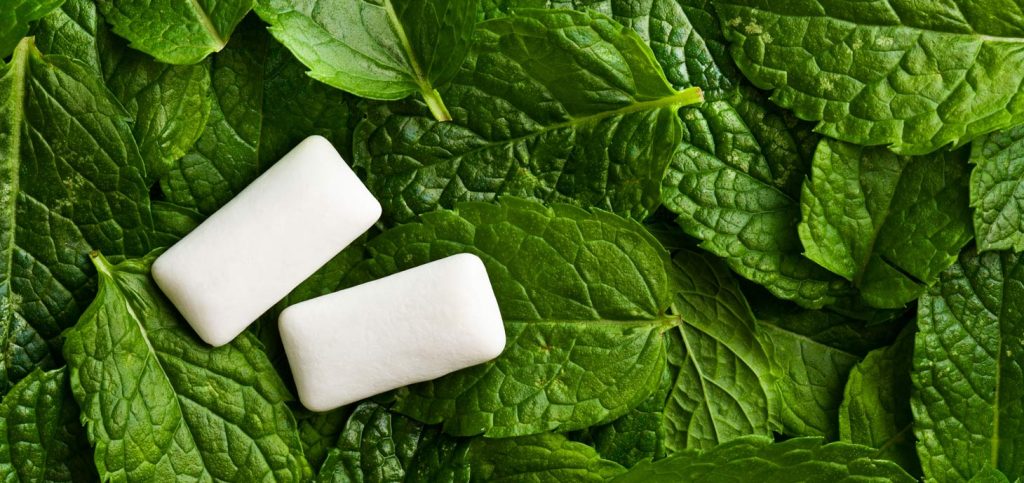 This is something worth a try! Chewing gum with its minty freshness and zingy flavors can stimulate the digestive process by tricking your brain into thinking it's receiving food. This can help you dial-down on mindless eating and reduce your appetite. Interesting right? This is backed by research too!
Summary
We all rummage through the kitchen for a bag of chips, cookies, chocolates, or any of the convenient junk foods whenever hunger or cravings strike. Healthy eating doesn't mean you have to give up all of your favorite treats, it's okay to indulge in them once in a while and for the others, go for healthier alternatives. Just remember, try not to go longer than three to four hours without eating because when you're hungry, you're more likely to make bad food choices.

Food cravings can be difficult to deal with so try planning ahead of time and keeping these healthy foods ready, this would help in avoiding reaching out for junk food. Point is to eat mindfully and with intention and attention. Snack on and stay healthy! ☺