Do you also believe that eggs and non-vegetarian foods provide all the proteins and vegetarian foods come up short? You are not alone, as this is one of the biggest misconceptions vegetarians have!

You would be surprised to know that there are abundant plant-based high protein Indian vegetarian foods that you can easily incorporate in your daily diet. Here is a fact that supports this, Indian wrestler, Olympic medal winner, Sushil Kumar is a vegetarian! He does not eat eggs and fulfills all of his protein requirements consuming milk and various other plant-based sources.

Before moving on to the list of foods, let us first understand what protein does to our body and why is it vital to consume them.
What is Protein and Why is it Important?
Protein is the building block of our body and is found almost everywhere including muscles, bones, skin, hair, and is also required for every cellular function that our body performs.

It makes up various hormones and enzymes that power many chemical reactions and also the hemoglobin, that carries oxygen in the blood.

Apart from this, there are a plethora of benefits that protein offers:
Helps in muscle recovery
Increases muscle mass and strength
Suppresses appetite and boosts metabolism
Strengthens bones
Helps your body repair after an injury
Increases overall energy
Aids in weight loss
Protein is one of the "macronutrients" which means that the body requires large amounts of it to function properly. The other macronutrients being carbohydrates and fats. However, unlike these two, protein does not get stored in the body and that is why you need to include high protein foods in your diet.
Consuming a protein-rich diet will help build lean muscles in your body and in turn, boost your metabolism. This would result in burning more calories even in steady-state! As per research, consuming high protein foods can reduce the level of abdominal fat.

Are you looking out for ways to reduce that undesirable fat around your mid-section? Read 9 Most Effective Ways to Reduce Belly Fat (Backed by Science).
How much protein do you need per day?
Protein requirement depends on person to person based on body type, lifestyle, age, etc. You have to play around with your body and test the numbers to get your exact amount.

As per PubMed Central (a highly respected database from the National Institutes of Health), the current international recommended dietary allowance (RDA) of protein, start with 0.8 grams of protein per kilogram or 0.36 grams per pound of body weight. That is if you weigh 60 kilograms, you would need 48 grams of protein per day. You can go beyond this but do not exceed 120 grams per day.

Notice how you feel after consuming the recommended amount of Protein. If you are bloated after eating or having sleep issues then, try reducing the intake. In case you are not facing any such problems then, you can increase consumption as well. However, for an average person (who is not an athlete or heavily involved in bodybuilding), it is probably best to aim for no more than 2 gm/kg or 0.9 gm/pound of protein.

Based on the percent of calories – for an active adult, about 10% of calories should come from protein.

Is too much protein bad for you? Yes! The liver and kidney play a major role in the breaking down of proteins. When excessive amounts are consumed, it can cause increased levels of ammonia, urea, amino acids in the blood, indigestion, intestinal discomfort, etc. High protein levels also elevate blood lipids and cause heart diseases. So, as it is said too much of anything is bad, the same goes for proteins as well. Take the optimal amount to reap its maximum benefits.
List of Best High Protein Indian Vegetarian Foods
Protein is made from twenty-plus basic building blocks called amino acids and out of these, nine essential acids come from food.

Each protein-rich food contains a different amino acid sequence. Therefore, it is essential to obtain protein from a wide variety of sources to ensure that you get all the essential amino acids.
#1 Soy-based Products
Soy products including soy nuggets, soy milk, and tofu are made from a legume called soybean that is an excellent source of high-quality protein.

Soy is a complete protein meaning that it contains all the essential 9 amino acids that are required by the body to function properly. In terms of quality, soy protein is comparable to that provided by non-vegetarian sources and is by far one of the best high protein Indian vegetarian foods.
Soy Nuggets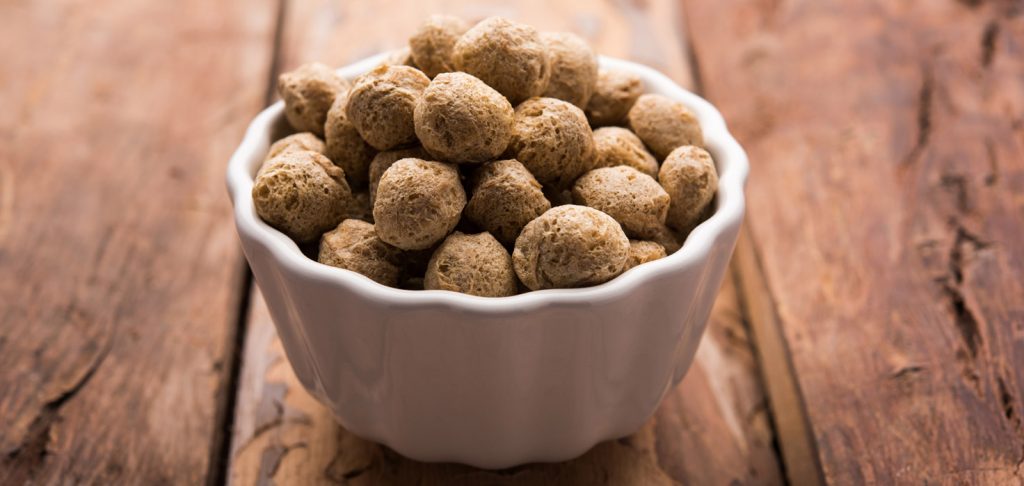 Nutri nuggets, or soya vadi as they are commonly known as, are made from soybean flour and are an excellent source of protein, calcium, iron, and omega-3 fatty acids. You can make a delicious curry out of soy nuggets or add them to your pulao, stir-fries, etc.
Protein in Soya Nuggets – 52.4 grams per 100 grams
Tofu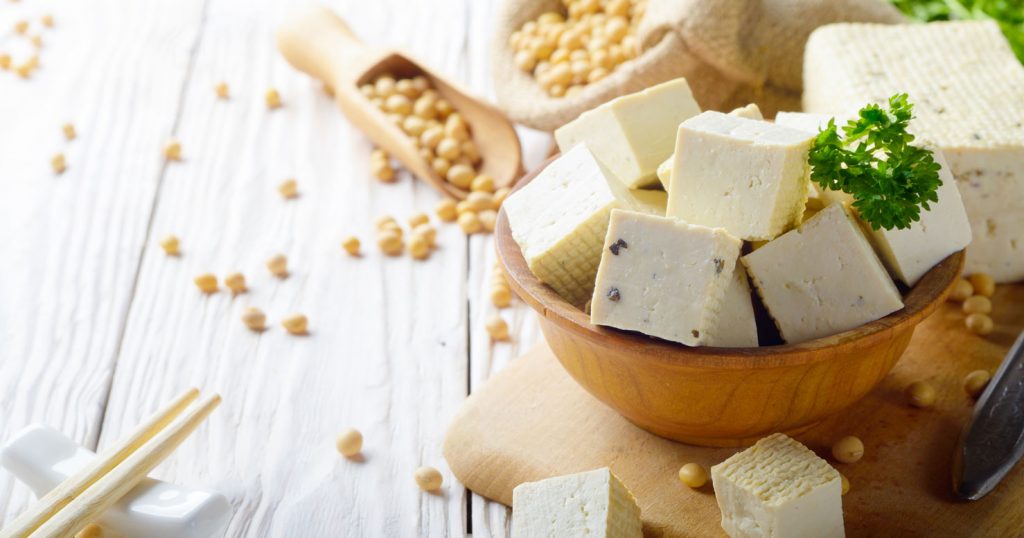 If soy nuggets do not float your boat, you can consider Tofu – a dairy-free/alternative to paneer and is another plant-based complete protein that would make a great addition to your Indian dishes.
Protein in Tofu – 8 grams per 100 grams
Soy Milk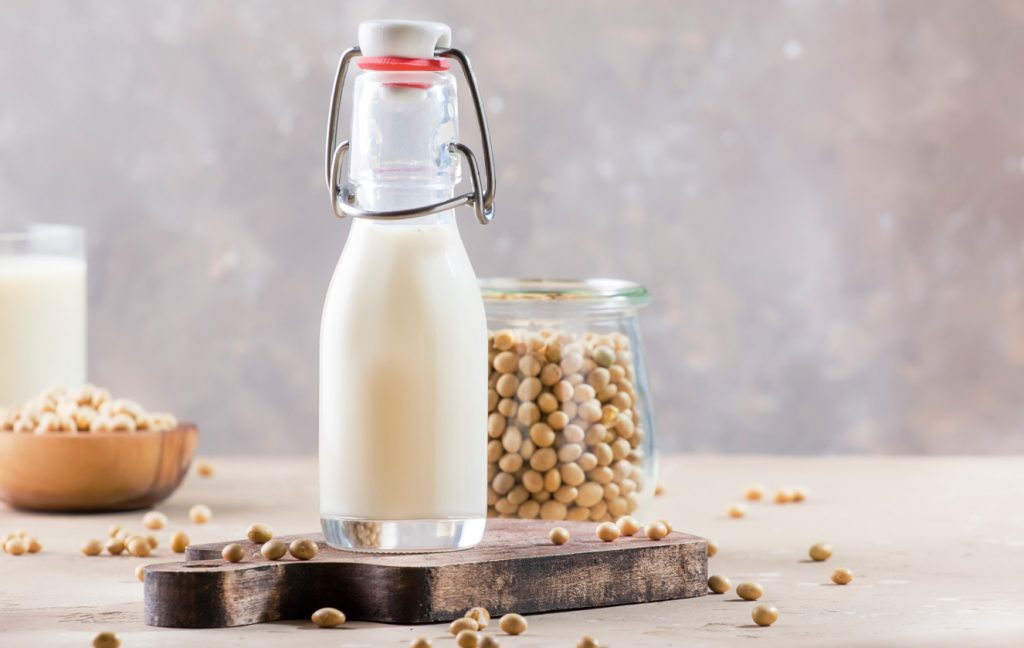 Soy Milk is cholesterol-free and a good source of plant-based protein. It is known to lower the LDL aka "bad" cholesterol levels, and also has less saturated fat compared to cow's milk.
Protein in Soy milk – 3.3 grams per 100 grams
#2 Chickpeas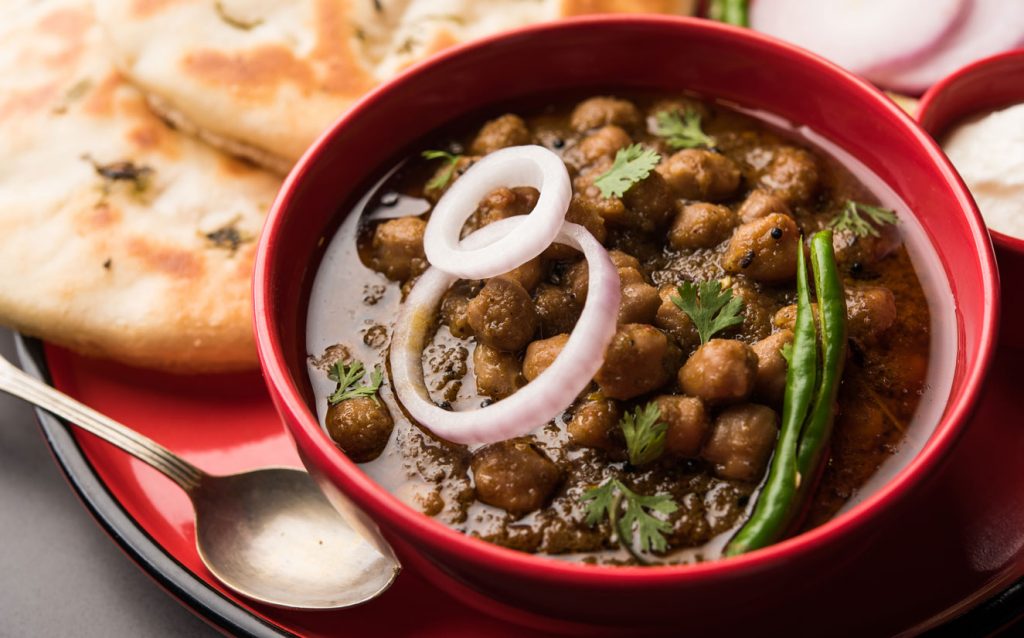 Yes, you read it right! You can relish your favourite Chana masala or Chole and power up your meals with the rich protein content.
Protein in Chickpeas – 19 grams per 100 grams
Protein is just the tip of the iceberg, chickpeas are also an excellent source of fiber, iron, folate, phosphorus, potassium, manganese, etc., making it a nutrient-dense food.

You can also include boiled chickpeas in salads or make a lip-smacking dip like hummus out of it.
#3 Beans and Lentils (Dal)
Beans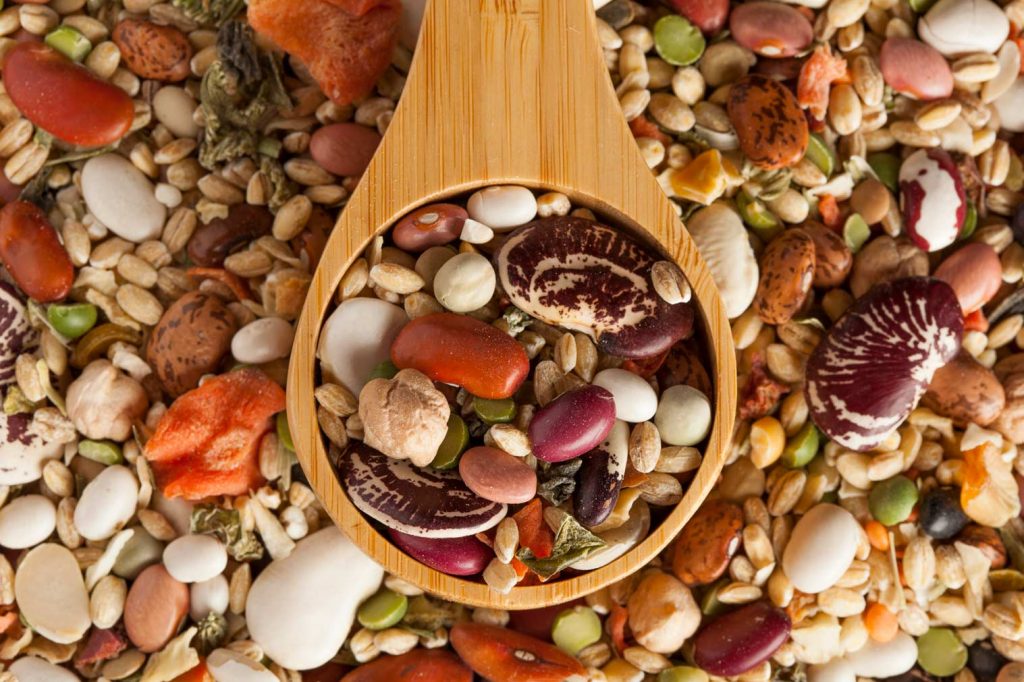 The love of Indians towards a steaming hot plate of Rajma chawal needs no introduction. Apart from being so delicious, kidney beans and other beans like black-eyed peas (lobia) are choc-a-block with protein.

To make your meal more nutrient and fiber-rich, try incorporating brown rice instead of white rice with these beans.

Amounts of protein in:
– Boiled Kidney beans – 9 grams per 100 grams
– Black-eyed peas (lobia) – 7.6 grams per 100 grams
Lentils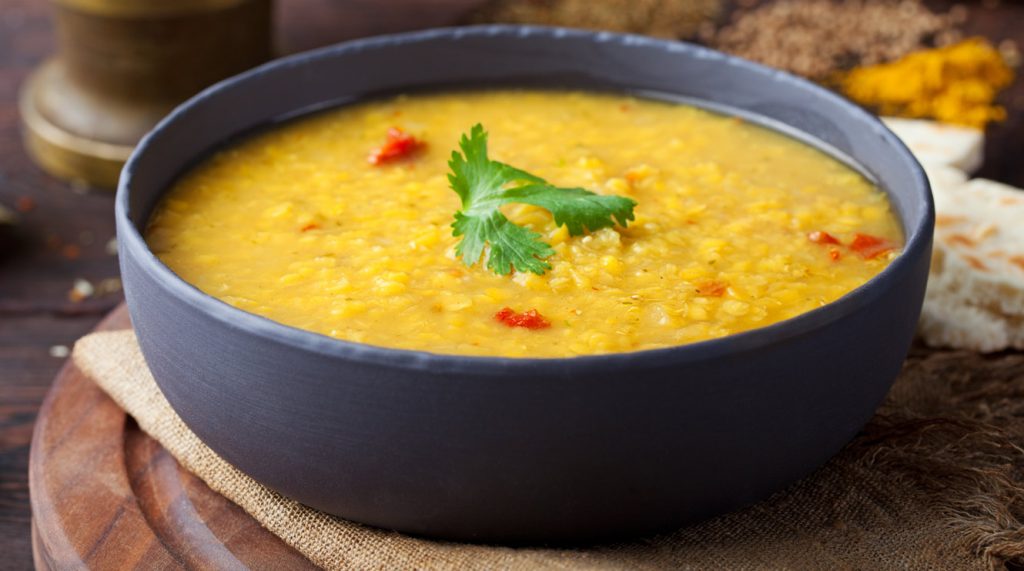 Coming to lentils, India possesses a great culinary diversity across various regions but one thing common among all is "dal". A part of almost every meal, lentils are a great way of ramping up your protein intake.

They are an excellent source of fiber and are low in fat too. Fiber is good for your heart, helps suppress your appetite, and can keep your weight in check.

Each lentil has its own health-boosting elements but the green moong dal tops the list.
Protein in cooked lentils – 9 grams per 100 grams
#4 Sprouts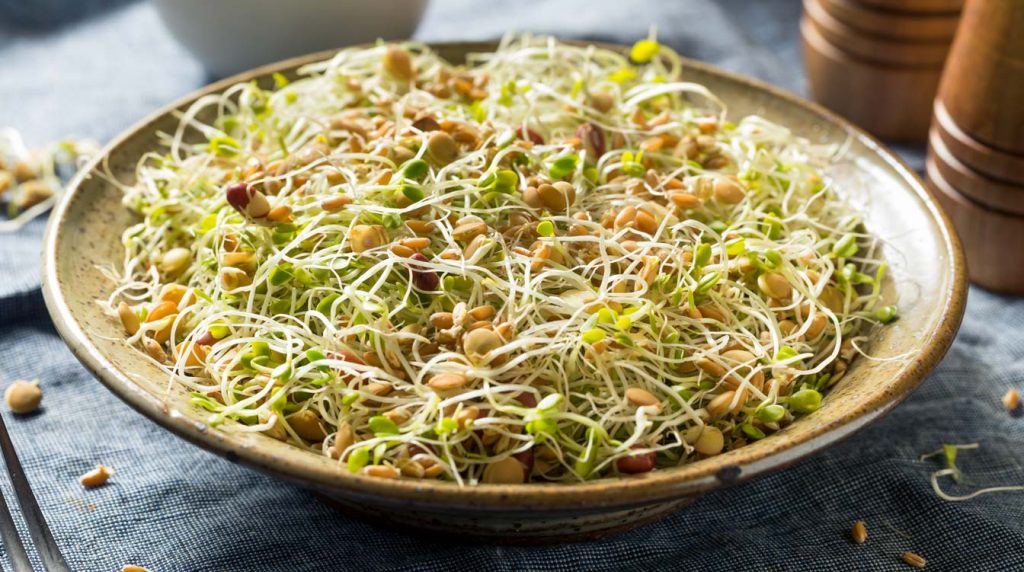 Sprouts are a nutrient-dense option for vegetarians. They not only provide enormous amounts of protein but are rich in vitamins and minerals too. Incorporating sprouts in your daily diets would also increase the HDL cholesterol aka the "good" cholesterol levels.

As sprouting adds on to the nutritional value of food, you can sprout any lentil, bean, nuts, or grains that you like. The most common forms of sprouts and their respective protein contents are:
– Moong bean sprouts – 5 grams per 100 grams
– Sprouted peanuts – 7 grams per 100 grams
– Black chana sprouts – 10 grams per 100 grams
You can make a scrumptious salad out of these sprouts or also grind them and make a healthy pancake or chila for breakfast.
#5 Dairy Products
Indian cuisine uses varied ingredients to create an assortment of mouth-watering dishes and desserts, an active ingredient in the majority of these is dairy.

Dairy foods like milk, yogurt, paneer, ghee, and cheese are not only excellent sources of protein but are also fortified with calcium and vitamins.
Milk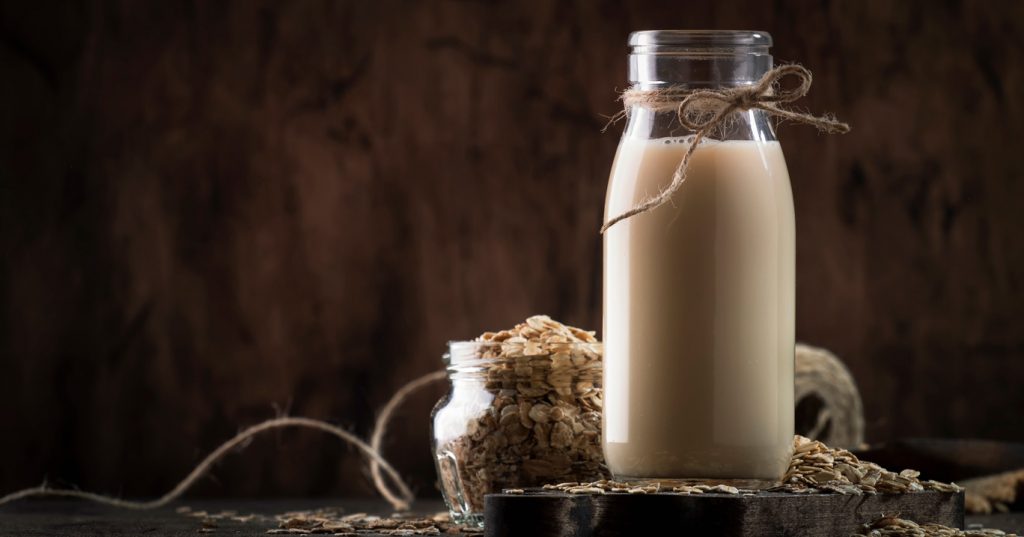 Milk contains two types of proteins: whey (20%) and casein (80%). Both of these are high-quality proteins and comprise all the essential amino acids in good amounts.

Do you know the best part? You can get all these nutrients while keeping your calorie intake less, just by opting for a low-fat variant.
Protein in a cup of milk – 8 grams
Paneer or Cottage Cheese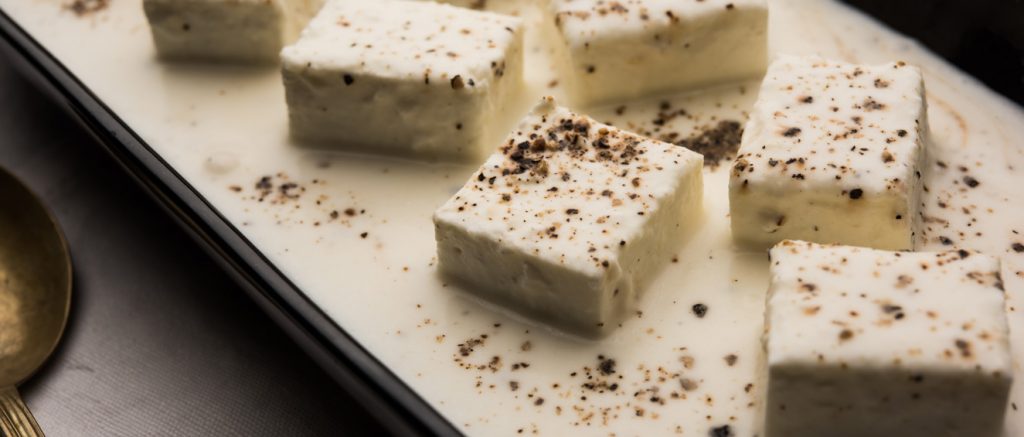 Cottage cheese or paneer as it is commonly known is almost every vegetarian's go-to food. It is a versatile and an all-time favourite ingredient we all grew up with.

You can have paneer curries, tikkas, or if you have a sweet tooth then make scrumptious desserts like rasgulla, rasmalai, Bengali sandes, etc. out of it.
Protein in Paneer – 14 grams per 100 grams
Greek Yogurt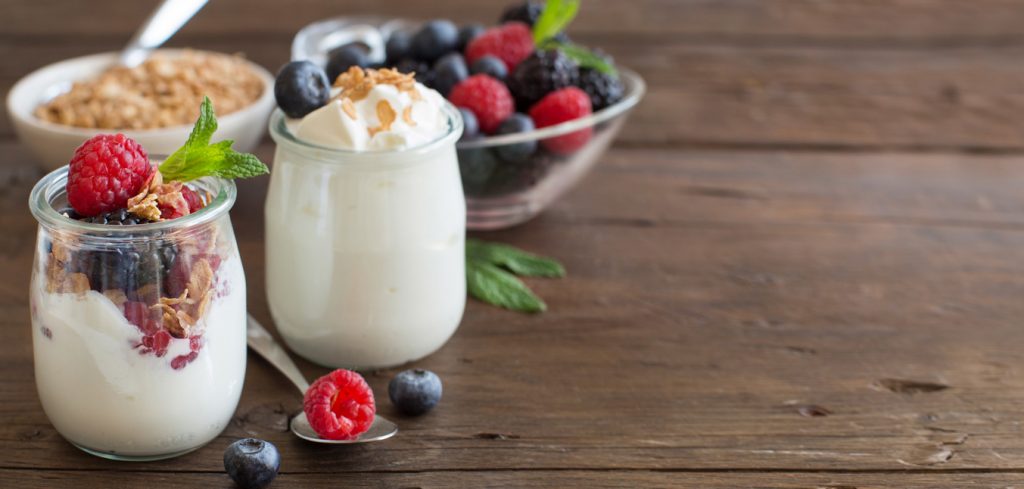 You can also add one more item to your breakfast menu – Nonfat Greek yogurt with fruits/granola or make a smoothie out of it. The benefits that Greek yogurt offers are huge! Apart from being rich in probiotics, it is also a powerhouse of protein.
Protein in Non-fat Greek yogurt – 10 grams per 100 grams
#6 Green Peas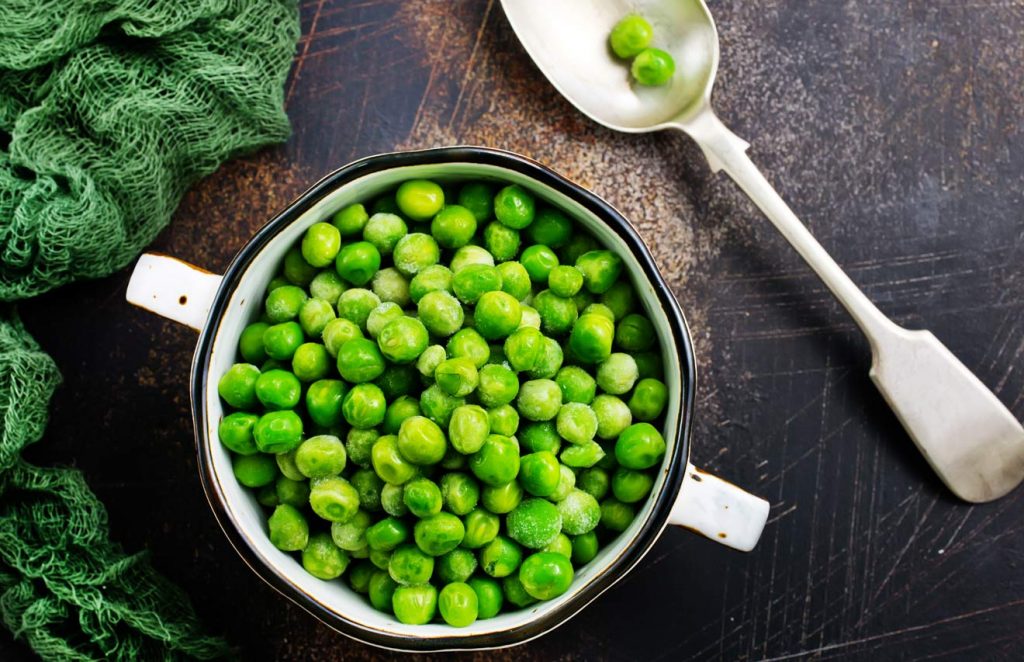 These little green pods are added to a variety of Indian dishes and they are known to bring in the goodness of a not-so-common amino acid – "Leucine", which also aids in weight loss.
Protein in Green Peas – 5 grams per 100 grams
#7 Mixed Seeds and Nuts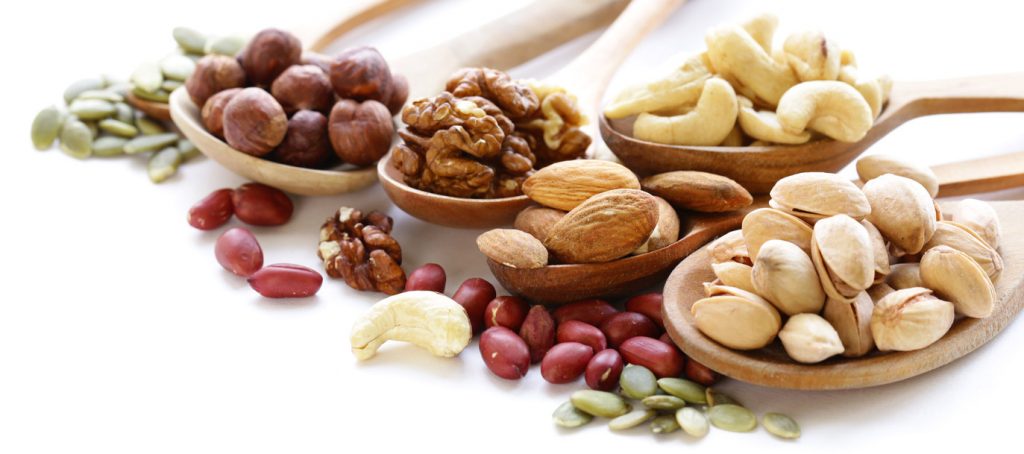 A wide variety of nuts and seeds are used in Indian cuisine for making gravies, desserts, and also for garnishing. Apart from imparting rich and creamy texture to the dishes, they are a tremendous source of quality protein.

Seeds are also an incredible protein-rich source. Sunflower seeds, for instance, contain 21 grams of protein per 100 grams. Plus, they are so versatile to use. Just like nuts, you can toss them into your porridge, cornflakes, sprinkle as toppings on soups, salads, etc.

You can also make a healthy trail mix of peanuts, almonds, walnuts cashews, and mixed seeds. Replacing this with other unhealthy snacking options would help in keeping your hunger at bay and also provide you good heart-healthy fats, dietary fiber, and vitamin E.

The protein amount in:
– Peanuts – 26 grams per 100 grams
– Almonds – 21.1 grams per 100 grams
– Cashews – 18 grams per 100 grams
– Walnuts – 15 grams per 100 grams
– Chia seeds – 17 grams per 100 grams
#8 Grains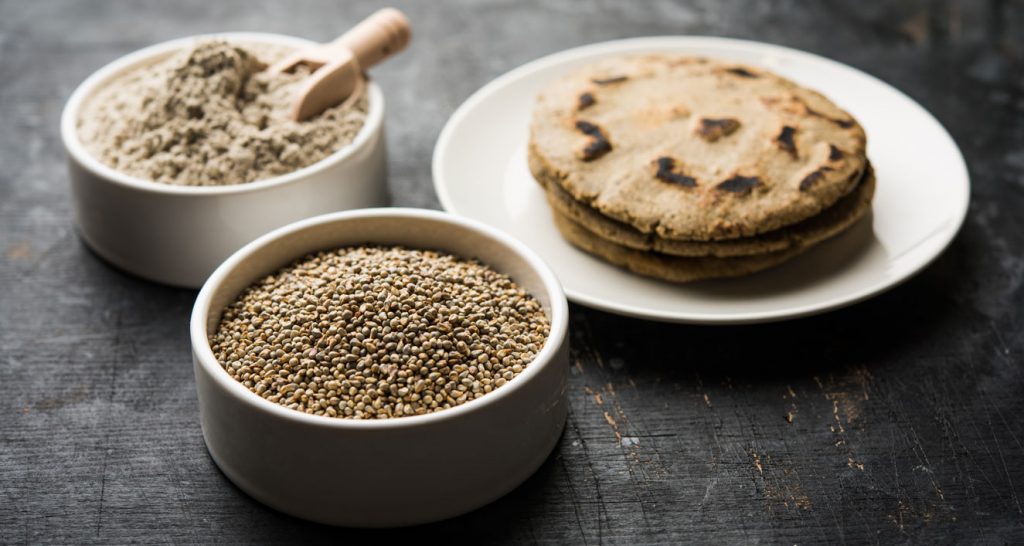 Any Indian meal is incomplete without breads like "roti", "paratha", or "naan". Grains like wheat, oats, ragi, and bajra (millets), are packed with protein. Your breakfast oatmeal and bajre ki roti/ khichdi are excellent ways to ramp up the protein levels in your diet.

Rajgira (or amaranth) is another grain that contains an amino acid called "lysine" that is missing in many other grains. Due to this, it is considered a "complete" protein.

It is recommended to make your chapatis from a blend of these different flours in order to raise the nutritional value.

The protein amount in:
– Amaranth – 14 grams per 100 grams
– Bajra – 11 grams per 100 grams
– Wheat flour – 10 grams per 100 grams
– Ragi – 9.2 grams per 100 grams
#9 Quinoa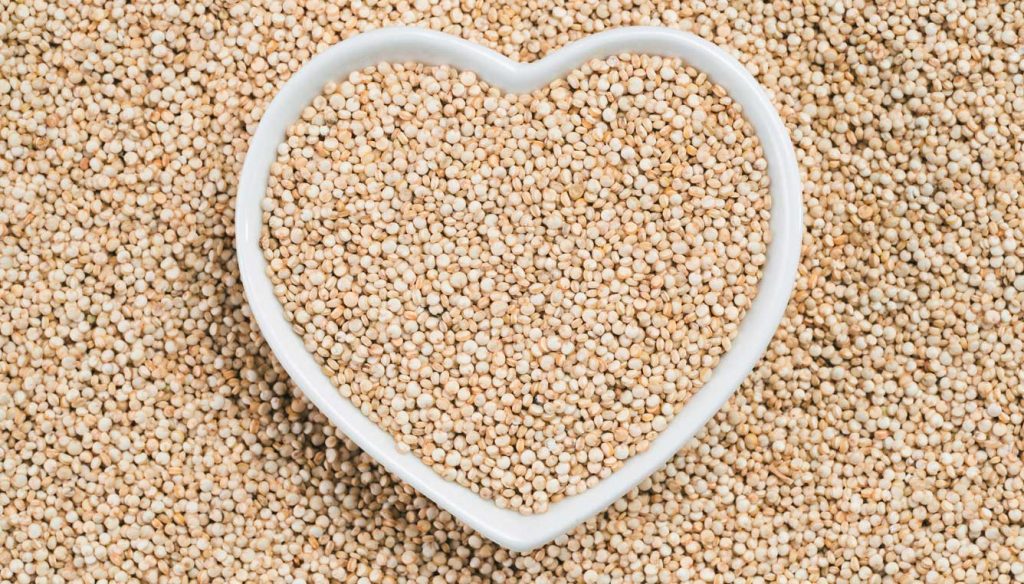 Quinoa, which is technically a seed, packs a strong protein-punch. It can be a great substitute for starchy rice and pasta. You can cook it like an upma or a healthy pulao, or even toss a salad out of it.
Protein in Quinoa – 4.4 grams per 100 grams
#10 Protein-rich Vegetables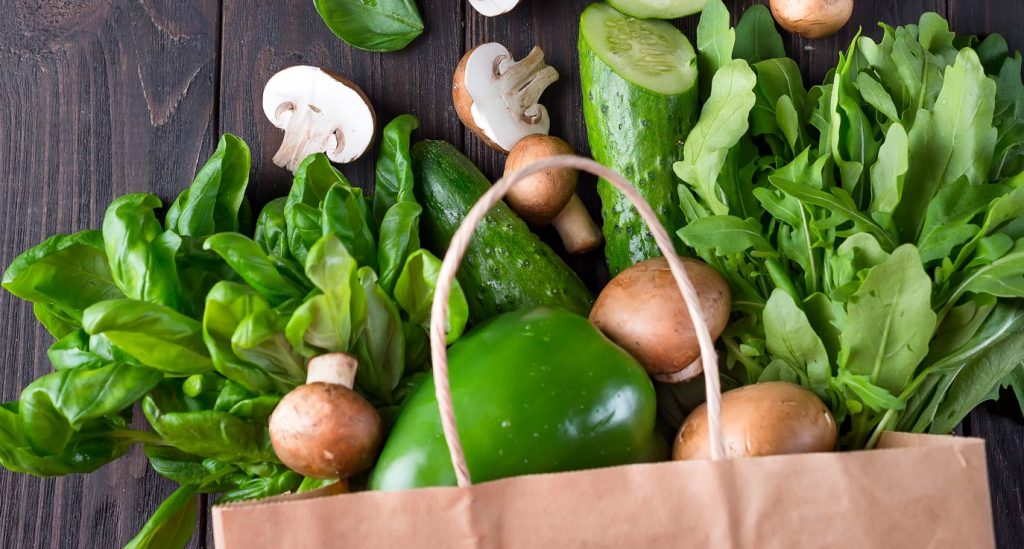 Even though vegetables are not very high in proteins as compared to the other sources, when they are combined with lentils and grains as in an ideal Indian meal, they create complete proteins.

Vegetables that are rich in protein are Brussels sprouts, Eggplant, Cucumbers, Artichokes, Onions, Green pepper, Beets, Broccoli, Mushrooms, Zucchini, drumsticks, etc.

Leafy vegetables including Spinach, Curry leaves, lettuce, kale also add on to the list.

The protein amount in:
– Brussel sprouts – 3.4 grams per 100 grams
– Broccoli – 2.8 grams per 100 grams
– Mushroom – 3.1 grams per 100 grams
– Spinach – 3 grams per 100 grams
#11 Protein-rich Fruits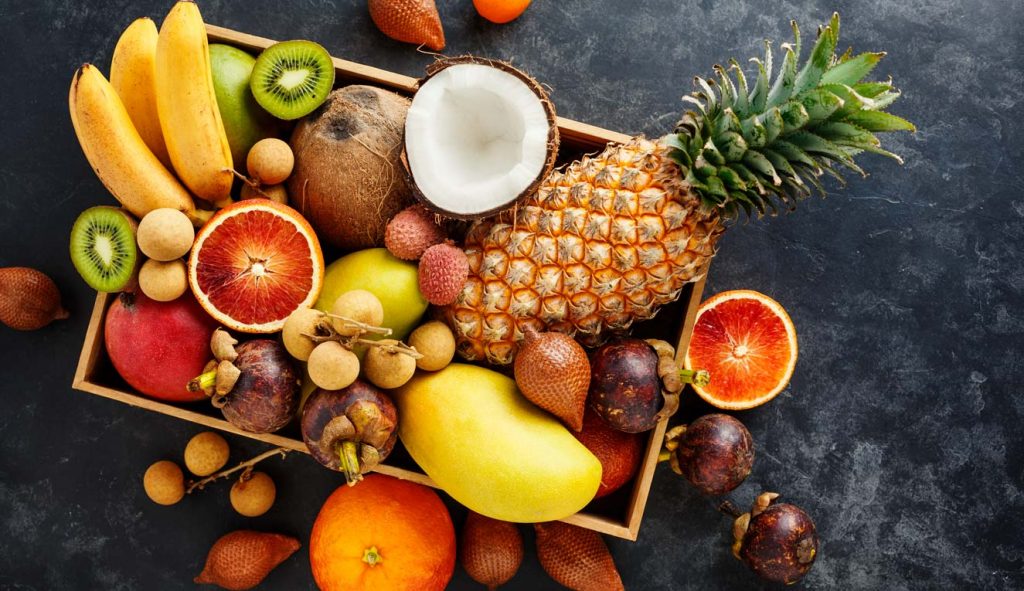 Adding on fruits to your diet would help you in meeting the fiber requirements of the body. Considering the protein content, few fruits contain good amounts like Guava, Avocado, Apricot, Orange, Papaya, Pineapple, Grape, Banana, Honeydew melon, and cantaloupe, Peach, Grapefruit, Pear, etc.

The protein amount in:
– Guava – 2.6 grams per 100 grams
– Avocado – 2 grams per 100 grams
– Apricot – 1.4 grams per 100 grams
Do these sources fit the bill and seem convincing to you? Most of the foods mentioned above are high protein Indian vegetarian readily available in Indian homes, so if you wish to raise your protein intake, consider incorporating them into your everyday meals.

With just a little planning, you can make a well-balanced protein-rich vegetarian meal that will naturally keep you going strong and make you fit inside-out!